If you are having trouble viewing this email
click here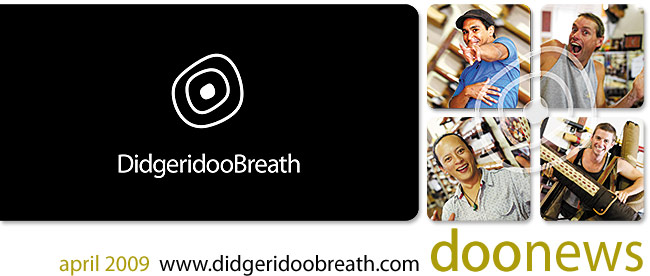 Goma Concert at Didgeridoo Breath
---



Goma "CYBORG" Concert, at Didgeridoo Breath will be remembered forever!


How remarkable to be amongst a room full of all ages, sizes, shapes and colours, pulsing together to the sounds of the Didgeridoo!



Do you have pictures to send us? We would love them!
Hands Free Didgeridoo Stands Are Back
---
Look Mum ……"NO HANDS"…

Every Didgeridoo Player must have one of these! Only $165

SAVE BIG $ and get 2 stands for only $275 (save on postage too!)

New model, widened leg span, heavy duty tubing and joints, twin screw head plate clamp, easy grab velcro strapping, simple height and angle adjustment, light weight, transportable.
Cure Sleep Apnoea The Fun Way
---
Learning to play the Didgeridoo can significantly improve your quality of life.

THIS IS BIG NEWS for you and your family!
This Month's $50 Winner
---
Congratulations to Kevin Webster from Canada, on being this month's winner of the $50 gift voucher.

Your voucher can be spent on anything at all in our online store!

We can't wait to pack up your order Kevin and send it your way!
Didjeribone Mark III - Slide Didgeridoo
---

| | |
| --- | --- |
| | Didgeridoo innovation, Australian made quality and ridiculous FUN! |
New Jesse Lethbridge Didgeridoos Online
---
And Don't Forget...
---
---