To view this newsletter online click here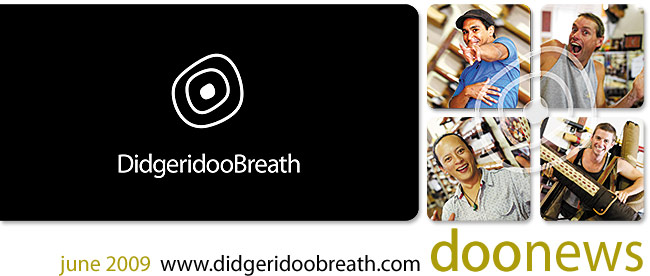 Take the Didgeridoo Breath video tour
---
Didgeridoos Hand Painted by Bill Harney
---
Bill Harney's traditional lands are in the Victoria River region near Katherine, in the Top End of Australia's Northern Territory.

Bill is the keeper of his people's laws, their stories and their traditions. He is an aboriginal artist, a cattle rancher, a tour guide and a businessman. He's a great raconteur. And he's one of the last of his people.

Bill has kindly hand painted a selection of beautiful playing didgeridoos for us, and they are

available for you right here

.

Bill Harney Didgeridoos Online Here.
And the Stix winner is…
---
The time has come… the sleepless nights are over… are you ready to find out who the winner of the superb quality Stix Didgeridoo is?…

The hugest congratulations go to Chris from Washington State, USA!

Chris is now the proudest owner of a superb Stix Didgeridoo!

"I'm sending out a very special HowdeeDoodleeDoo to all my fellow didgeheads... why you might ask??? Because I'm the PROUD WINNER OF THE STIX DIDGE DRAWING.... I'm here to tell ya I about crapped my pants when I heard I won this little gem... I'M SOOOOO STOKED!!!!!
Man this baby practically plays itself... it's sooooo responsive and effortless to play... it's like being with an intimate lover, you just kinda become one with it... there are NO words that can do this bad boy justice... you have to play it yourself to Really Truly Appreciate This Work Of Art... simply put… it's "FRICKIN AWESOME"!!!

Thanks DidgeBreath Crew... from the VERY Proud Winner Of The STIX Drawing

Chris Williamson - Washington State, USA"
Aboriginal Art Clearance
---
Sanshi back from Arnhem Land
---
This Month's $50 Winner
---
Congratulations to Bill Connon from Scotland, on being this month's winner of the $50 gift voucher.

Your voucher can be spent on anything at all in our online store!

We can't wait to pack up your order Bill and send it your way!
Didgeridoo Concert Time at Didge Breath
---
We are blessed to have 2 of Australia's top performers, playing live at Didgeridoo Breath Fremantle next month…

Nathan Kaye - Thursday 2nd July, 7pm - 9pm, Tickets $12

Si from Wild Marmalade - Thursday 16th July, 7pm - 9pm, Tickets $12

Venue: Didgeridoo Breath, 6 Market St, Fremantle, Western Australia
Didgeridoo Breath - 6 Market St, Fremantle 6160, Western Australia
Open 10am - 5:30pm everyday