Australian Didgeridoo Band "Oka" - Live at Didgeridoo Breath
When: Thursday 14th May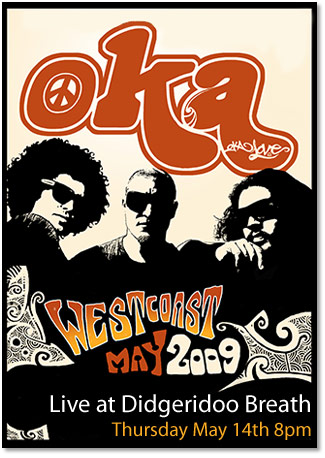 Time: 8am - 9:30pm

Where:
Didgeridoo Breath
6 Market St, Fremantle
Western Australia

Tickets: $12 at door
OKA's home is a little surf town on the Sunshine Coast of Australia, the music echoes their roots and celebrates the diversity of Australian cultures, especially highlighting Indigenous Australia.

The last few years have seen them lighting up the world stage.

Tour highlights include The Bell Stage @ Montreal Jazz Festival (Canada), The Greenroom Festival (Japan), Singapore River Festival, Woodford and Dreaming Festivals (Australia).

The OKA signature is a smooth hi-fidelity sound that is full of beautiful uplifting melodies, tones and textures, cooked over raw didgeridoo rhythms and phatt dance driven grooves.

A live collective where no two gigs are the same, the OKA flavor is their own hybrid of feel good Roots, Reggae, Dub and Jazz, marinated in Electronica and served on Island Time.

They have independently sold over 60,000 albums worldwide, a true testament to their ever growing appeal to people of all ages and cultures.

"It's the kind of sound you spread the news about with an almost missionary fervor.."

OKAs hypnotic, high energy live performances are a spontaneous exploration into the sublime. They consistently set themselves apart as a festival crowd favourite with their originality, honesty, and passion.