In the News
Last Updated: 24/11/2010
---
Inside you will find all sorts of interesting, fun, complex and simple Didgeridoo news and information articles. From the Didgeridoo at the Olympics to important concert dates and all sorts of other not to be missed Didgeridoo news and events. Please contact us if you have anything you feel can be added to this news section

Didgeridoo Jam with Stevie Wonder!!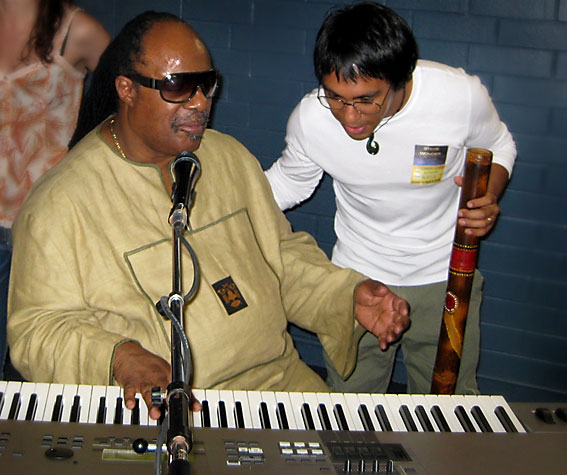 On Tuesday the 14th of October I had the privilege to meet and play didge with one of the world's greatest musicians and performing artists, Stevie Wonder!!

How did this come to be?

Well in the second week of October 2008 I met a man named Joe in our store. We started chatting about the didge, music and other things when the subject of Cuba came up. He told me he really enjoyed the Cuban culture and it just so happened that I have friend from Cuba (Otto) staying with me. So I offered to introduce Otto to Joe. Otto had been dying to speak Spanish since he arrived in Oz and Joe really wanted to get an update on things in Cuba and practice his Spanish.

We chatted some more and Joe mentioned he was here for Stevie Wonders tour setting up drums and congas for the percussionist. I was amazed that Joe had such an awesome job, traveling the world setting up the percussion and hearing Stevie's music live!!

Joe gave me his contact details for Otto to call and they could chat in Spanish etc. That weekend I called Joe for Otto and introduced them over the phone, they chatted for 10-15 minutes and then Joe asked to speak to me. He told me he would try to get a ticket for myself and Otto for the Stevie Wonder concert and he would see if he could organize a meet and greet with Mr Wonder and would let me know on Tuesday morning.

Tuesday came around and I hadn't heard from Joe, so I thought I wouldn't worry too much as Joe was a busy guy and had most likely forgotten to call. When suddenly about 4pm I get a call from Joe……

"Levi I spoke to some guys here and I have organized a ticket for you plus one and for Otto plus one,

Bring your didge as I may be able to organize a meet and great with Stevie, and bring your didge as you may have an opportunity to play"

WOW!! I was so excited!!It was crazy to know that in a few hours Otto, my wife Lisa, friend Zoe and I were going to see a legend perform and even get an opportunity to meet him!!

7:15pm we arrived at Burswood Dome and picked up our tickets and made a bee line straight for our seats!! Tickets in my left hand and my didge in the right, 14 rows back from the stage. Awesome!!

"Isn't she lovely…..signed, sealed, delivered I'm yours…….Very superstitious" rang out through the air.

We clapped, danced and sang along to all the songs we knew and sheepishly hummed through the songs we weren't so familiar with.

The concert finally came to a close and people started leaving the Dome. We stood proudly displaying the "Backstage Guest" passes adhered to our chests (or to our biceps, Zoe)and then made our way across the floor and joined a small assembly of fans and friends who were all eagerly waiting to meet Stevie.

We were then ushered down a corridor to a room backstage where there were four rows of seats set up in front of a keyboard, mic and seat. His publicist informed us that when Stevie came out we'd only be able to take one photo, shake his hand and then exit the room because Stevie was very tired as he'd flown in from London that morning and then performed. Very understandable as I'm totally knackered after an overseas flight let alone having to perform in front of thousands of people!!

One after the other, the musicians and backup singers came out and mingled with us. Many people seemed quite acquainted with the musicians already and were striking up conversations and rupturing into photo frenzies all over the place. Otto kept looking around the room for Joe. A backup singer came up to me and started chatting and advised that Stevie enjoys the didge and often pulls his out and has a play. I watched others have their photo taken and then leave the room and thought that I may not get a chance to play.

Our turn came to meet Stevie….WOOHOO!!...nervous excited and in total awe, here is the man that I'd dress up like as a kid, rocking side to side behind a keyboard while miming his songs!!

Joe introduced us to Stevie and asked if he'd mind if I played for him. I pulled out the didge and played a quick little tune and stopped.

To my surprise Stevie shook my hand and asked me to continue playing "Play some more man, play some more" he said and then asked everyone in the room to be quiet while I played. So back up to my lips the didge went and I started playing 30 seconds into it, Stevie came in on the keyboard and started playing some funky tunes while his percussionist clapped along beside us!!




Awesome the whole room stopped and watched as I jammed out with Stevie for about 3-4 minutes and not only did I get one photo, but several, which are all going straight to the pool room!!




Big THANKYOU and Blessings to Joe Addington who made this all possible, I appreciate everything you did for us.

Levi





William Barton



Widely recognized as one of Australia's finest traditional didgeridoo players and credited with bringing the instrument into the realm of classical music, William Barton was born in Mt Isa in North Western Queensland, and was taught didgeridoo at an early age by his uncle, an Elder of the Wannyi, Lardil and Kalkadunga tribes of Western Queensland. Barton has appeared at music festivals around the world and with symphony orchestras and has also recorded a number of orchestral works. He is Australia's first didgeridoo artist - in residence with the Queensland Orchestra and also a didgeridoo teacher and composer, committed to enhancing the profile of the didgeridoo internationally. Barton has developed a fast-tongued technique that is taking the didgeridoo into new sonic realms, conjuring the spirit of a dingo or a crow with the brilliance of free-form jazz. According to Liza Lim, composer in residence at the Sydney Symphony. "He's constantly inventing new ways of playing the instrument. It's such a great signal for Aboriginal culture not being static; of renewing, innovating and transforming."

Congratulations William on your proffesionalism, focus and impact, you are truely opening up the world of and to Didgeridoo.



In memory of a great Australian - Heath Ledger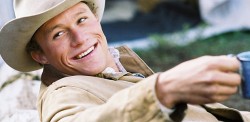 Hi there didge people,
Levi here from Didgeridoo Breath. On Saturday the 9th of February 2008 I had the honour of playing the didgeridoo for the opening of Heath Ledgers Memorial Service.
I rode to Penrhos College in Como on my motorbike with my didgeridoo secured to my back inside a didge bag. When I arrived there was a small group of media representatives armed with their cameras ready to take shots of anyone that looked like they had the slightest thing to do with the service. On any other day it would have been exciting to be standing in front of the media and posing for photos but this day it just didn't feel 100% right, so I quickly strolled by through the gate then inside to prepare to play.
With my traditional dress (laplap and body paint) I made my way on to the stage which was set up with rings of Frangipanis, a variety of different sized candles placed all over the stage, a beautiful array of flowers and the sweet scent of incense. After a few songs were played through the speakers the time finally came for me to play.
So eyes closed and mouth to didge I began to play….the picture that came to my mind while I played was the sun going down for the very last time ever….I pictured myself as a bird flying as fast as I could to keep up with the disappearing sun…chasing it over mountains, along the rivers, forests and bush land…no matter how fast I flew my small wings soon became very tired and I could not fly any more….as I rested on a high rock the sun seemed to get further and further away until it disappeared in the distance and I was left in total darkness!!
Myself as the bird began to cry out in fear and in loss knowing I'd never wake to sing the song for the sun again…there I sat alone and shivering for the sun had forever gone leaving the world totally dark and cold…..until my mind started to remember how the sun used to sneak its way under my eyelids and wake me up…..and all the days that I had spent in the light of the sun…flying, singing, waking all the other creatures up with my morning song…then a warmth flooded over me and joy and happiness then filled my heart as these memories began to fill and overflow my little bird mind, I just couldn't hold in this feeling, a smile started to stretch across my face, a giggle bubbled up then suddenly a kookaburra laugh burst out . Then right at that moment I knew no matter how cold or dark the world around became, I would always smile knowing that I once spent a day in the sun…Then my didge playing stopped.
Although I never met Heath or had the chance to know him, by the atmosphere that was set at the service, I'd imagine he was a really nice, down to earth everyday guy who was greatly loved. Personally he had to be one of my favourite actors. From the movie "Two Hands" to "The Patriot" he was just brilliant!!
I recently found out from his father Kim that Heath enjoyed playing the didgeridoo (How cool is that?) I felt even more privileged. Sometimes we put celebrities on such a pedestal that we tend to forget that behind all the glitz, glamour and hype from the media they too are still human and enjoy the odd hobby on the side.

All my love and prayers to his family. God Bless. Levi
Didjeribone Amazing Didgeridoo!


The Didjeribone invented by Charlie McMahon, the world's most versatile and easy to play slide didgeridoo. 100% Australian made. Buy your Didjeribone today J
SMOOTH SLIDE ACTION
Custom made extrusion dies ensure a minimum clearance between the two pipes, so the Didjeribone slides effortlessly between the ten keys, but does not allow air to escape when fully extended.

PERMANENT & CLEAR KEY MARKS
The highest being G when closed, then there are seven keys etched into the yellow inner pipe. Running from F# down to C and extending further you can reach B and Bb.

RUBBER MOUTH PIECE
Makes for easy contact with the lips and as the circumference is the optimum size it is easy to play, and does not require the wax often used to made wood didjeridus playable.

FLARED SOUND END
Give the Didjeribone a brighter and louder sound than linear shaped didjeridus.

LIGHT WEIGHT & DURABLE
Weighing less than 0.5kilograms the Didjeribone uses a minimum of materials so it can be played in a variety of positions, and is unlikely to break or cause damage if it is dropped.
Si Didgeridoo Concert Rocked the House!!!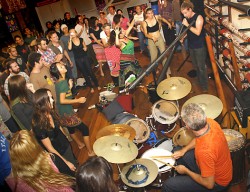 A musical astronaut, Si has developed a totally new style of playing didgeridoo – mixing tight vocal percussive beats with phat didj bass grooves to create an awesomely textured sonic environment. Within the 13 years he has been playing he has become one of the most respected didgeridoo players in the World. He has toured Japan twice, Europe 6 times and the USA.
He is the first didgeridoo player in history to have a contract with the world famous "Cirque du Soleil".
Si featured in the discovery channel documentary "Yidaki" that was screened in 144 countries prior to the Olympic Games in Sydney 2000.
In addition to the Wild Marmalade albums and DVD, Si has available 2 solo CD's Innersense and Spirit.
We were extremely grateful to have Si perform in our store in his first ever gig on the west coast! It was our most pumping, dancing, didge concert to date! We loved it, thanks Si!
The best didgeridoo lessons on the planet!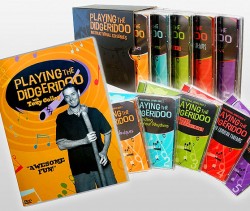 Are you looking for that ideal gift for your friend or family member… or maybe even yourself!! (Why not spoil yourself… Christmas is coming!)

If you have ever wanted to learn how to play the didgeridoo, now you can!

If you can already play, but have always wanted to know how to make those amazing sounds and play advanced pumping didgeridoo rhythms, well here's how… and it's a lot easier than you think!


Here it is, the most up-beat, engaging and easy to follow didgeridoo lessons on the planet…

For more information, video and sound samples, and to purchase your very own, check out the full product details here.
Do what you need to do to get a hold of these beauties, they will transform your didgeridoo playing forever!
Here are what some of our customers have to say about the Playing the Didgeridoo DVD and CD series…


"I would just like to say thanks for the DVD and the 5 disc pack. I am learning heaps from them and can now play that didgeridoo. Now all I have to do is keep practicing. There is so much information on the discs thanks heaps."

Martin

"That instructional CD I got, that has got to be the best one out there. I have a few instructional CD's, a DVD, and info on the net, but literally none come close to how well that CD explains everything, well done to those guys. I might get the next 2 CD's now"

Paul

"Bonjour. Just a little word to tell you last year I order "Playing the Didgeridoo" box set. It is the best thing I did, now I play very good....for 1 year playing. Last week I listen the #4 CD and I modified again some of my rhythms with your tips, now my "song" sound better. Thank you."

Gaston

"…I also practiced with your cd's, the explanations and exercises were awesome, you did a good job. Thanks again."

Danny

"I want to give you my compliments with your 5cd box "Playing the Didgeridoo". A very good medium for learning to play & improving playing skills. I learned already several things of it which I use now frequently"

Piette

Why wait, when you can be learning right now! Let tommorow be a great day knowing your DVD and Cds are on the way!


Didgeridoo Lessons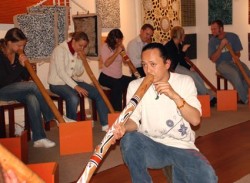 Welcome to Australia's largest didgeridoo school!
Teaching the didgeridoo is what we do. We have done it for years, love it, live for it and have it down to a fine art!
After literally hundreds of lessons in our shop, in schools, universities, businesses and youth camps to name a few, we have refined our teaching formula to an art. Never before has learning how to play the didgeridoo been more enjoyable, fun, and successful.
And if you can already play, we run an "Extended Techniques" course to teach you the finer tricks and techniques to get you sounding amazing.
Check out our didgeridoo lessons page here for more details, dates and prices.
If you have questions about learning to play the didgeridoo, we are in the shop 7 days a week and only too happy to help. Please email us or give us a call on +61 8 9430 6009.
Tags:
Beijing olympics
,
william barton
,
olympics
,
didgeridoo
,
australia
,
stevie wonder
,
didgeridoo
,
levi
,
william barton
,
didgeribone
,
heath ledger
,
si
,
wild marmalade
,